Flower of the Month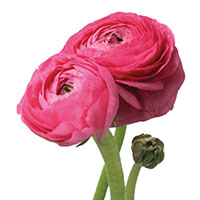 The lavish, crepe-like flowers of Ranunculus add a soft feel to arrangements. They are available in a wide range of colors, from pastels to brilliant tones, so there is sure to be a shade to suit any design or décor. Ranunculus flowers symbolize "radiant or dazzling".
Grower of the Month
There isn't a Grower of the Month this month, please check back next month.
pickOntario is an initiative developed by Flowers Canada (Ontario) Inc. to raise awareness, interest and demand for Ontario-grown cut flowers and potted plants. When you pick Ontario, you are supporting the more than 600 greenhouse farmers who employ approximately 8,000 people in our province. The growers in Ontario work hard to produce quality flowers and use the latest trends in technology and growing techniques to ensure their products are delivered fresh to local retail establishments, daily.
Read More...