Belgian Nursery Ltd.
Breslau, Ontario
OPEN YEAR ROUND: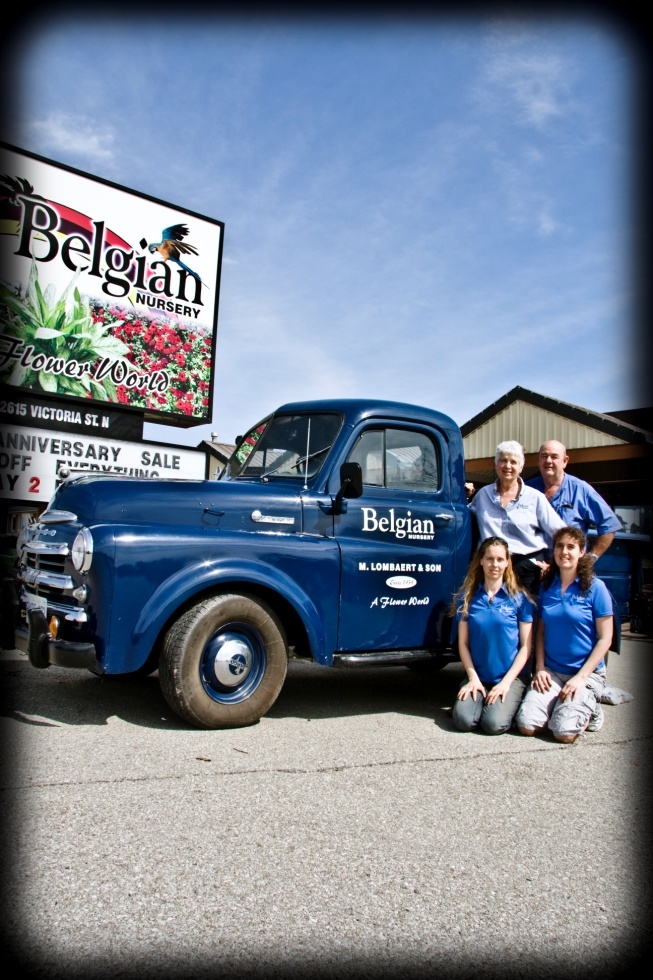 Belgian Nursery: A family business founded in 1959. Belgian Nursery is a retail garden-center-only selling on site! Currently Belgian grows over 1 acre of annuals, including over 8,000 baskets and planters! They grow and buy in some perennials and garden mums. Belgian also offers an array of tropicals, cacti, vines, shrubs and poinsettias, with garden and home décor, cut flowers, artificial Christmas trees, Christmas decorations, and gift items to complete the whole enjoyable shopping experience!
www.belgian-nursery.com
Cactus Festival:
January 24 to February 24, Yearly
Over the years the cactus festival has become a great indoor winter escape. The warmth and prickly experience is enjoyed by everyone. Many cactus sales are offered at this time. The cactus festival has become an annual event in Belgian's Cactus House.
Hawaiian and Caribbean Days:
Month of March, Yearly
A tropical get-away. Warm up from the winter cold by walking through our tropical and orchid greenhouse. During this month select specials are on tropical plants and orchids.
Perennial Centre:
Mid April to October, Yearly
Belgian carries over 1000 varieties of perennials. We also carry a select assortment of Shrubs; a great way to add structure to your garden. Browse through our perennial centre often to find new plants for your garden. Our perennial selection changes throughout the season.
Spring Annuals:
May, Yearly
We grow over two acres of annuals; geraniums, petunias, impatiens, and more. We grow over 5000 hanging baskets that are a great gift for MOM on Mother's Day.
Fall Bulbs and Garden Mums:
September to Mid October, Yearly
Tulips, daffodils, hyacinths, crocus and allium bulbs are available in the fall to plant for spring flowers. Garden Mums can also be purchased at this time to spruce up the flower bed, patios or decks.
Christmas Magic:
November and December, Yearly
Visit the Christmas Store to explore. Poinsettias, fresh greens boughs and ready-made greens pots, artificial trees and ornaments for decorating your home. Belgian also has many gifts for everyone. Visit Belgian's Poinsettiaville.
History:
In 1959
it all started with the purchase of 3 acres of farmland, a house and a barn by Maurice and Mary Lombaert (ages 54 and 53) with their son Luc (age 8). Plants and cut flowers were sold at the K-W Farmers Market.
In the 1960's
field grown pansies, perennials, garden mums and gladiolas were grown for sale at the market. One small coal heated greenhouse expanded to 3 glass and 6 wood-framed fiberglass greenhouses for growing annuals. A slat house for selling trees and shrubs was built.
In the 1970's
the purchase of 10 acres of land beside created space for more glass greenhouses to be built, including the tropical house. Annuals, perennials and poinsettias were the main crops in this decade. Fresh cut flowers for weddings and funerals were also added, while the trees and shrubs were discontinued. Luc married Rosie in 1973. Soon after, Rosemary and Julie were born.
In the 1980's
it was the years of tearing down and rebuilding to be more energy efficient and create convenience for retail shopping. One acre of open concept greenhouse and the main store were part of this decade's endeavors.
In the 1990's
it was the decade of change! The Perennial Centre was built, the old slat house gone. Many new varieties of annuals and perennials were being introduced. Many renovations in the greenhouses were created with customers in mind; The Cactus House (1995), Pot Shop (1998) and the Pond Area (1999). Rosemary and Julie finished school and joined the family business full time. Rosemary married Shawn in 1995 and added the start of the fourth generation; Ashley. Maurice "PA" Lombaert passed away in 1995 at the age of 90 and Mary "MA" Lombaert passed away in 1999 at the age of 93.
Their accomplishments continue to this day.
In the 2000's
, the new millennium! To stay with the times a select assortment of shrubs was added and growing poinsettias was discontinued. The hoop houses were rebuilt to be more energy efficient. Trevor was added to Rosemary and Shawn's Family. Julie married Phil (2007) and added Conall and Tegan to the fourth generation.
www.belgian-nursery.com